Circles of Love
Are you caring for a foster child, an adopted child, a grandchild, a stepchild, a niece, a nephew or a child that might fit into a similar category?
Then this Support Group is for YOU!!
LOCATED AT THE ORANGE COUNTY DEPARTMENT OF MENTAL HEALTH
30 HARRIMAN DRIVE, GOSHEN, NY 10924
ON THE 3RD MONDAY OF EVERY MONTH
FROM 6:30 – 8 PM
For further information contact:
Becky Johnson (845) 239-1736
Anne-Marie Freitas (845) 421-7324
Presented by: VoicesUnited4Change and Access: Supports For Living
---
Foster Parent Month
On Thursday May 5th at the meeting of the Orange County Legislature, May was proclaimed Foster Parent Month in Orange County. During the meeting two of our foster families were acknowledged for their 25 years of service as foster parents. Commissioner Miller paid tribute to each family, bringing many in the meeting to tears.
Please join us in congratulating Faith and Keith Snyder and Dwayne and Yolanda Bynum and their families on their 25 years of service as Orange County Foster Parents.
Dwayne and Yolanda Bynum have been certified foster parents for the Orange County Department of Social Services since June 11, 1992. Since that time they have fostered more than 70 children and have adopted through foster care too. They have fostered toddlers and teenagers and everything in between. They even took a young man who had gone on to college, but had no family to return to. They took him in during his college vacations, giving him a place to call home during the holidays. The Bynums have always been an active family and have given children in foster care a fun loving family experience by including them in all of their family vacations and events. They have been a wonderful resource to us and have made an impact on many, many families and children in Orange County.
Faith and Keith Snyder have been foster parents since May 3, 1992. Since that time they have fostered more than 40 children and have also adopted through foster care. The Snyders came to us with a specific interest in fostering medically fragile children and have provided tender loving nursing care to many, many children over the years. They have taken children with congenital health problems and others with injuries inflicted upon them. They have provided phenomenal care to all of the children entrusted to them and have ensured that all receive proper medical care while being loved and nurtured in their home. They are truly life savers.
We are proud to call The Bynums and The Snyders our own. They are remarkable families who have committed 25 years of their lives to caring for our most vulnerable citizens. They have opened their hearts and their homes to children whose parents could not care for them. We are grateful that both families continue their selfless service to others, hopefully for many years to come.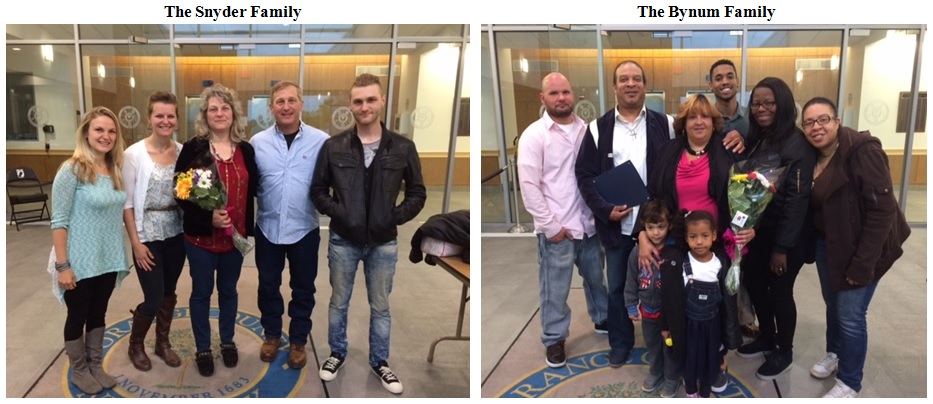 ---
Mileage Reimbursement and Managed Care
Dear Foster Parents,
We would like to advise you of two important issues. The first change will be in how you obtain mileage reimbursement when you transport a foster child to a medical appointment. The second has to do with your child's medical insurance; specifically Managed Care.
As of 1-17-17, we will no longer reimburse you for medically related transportation through Children's Services. Though you will still be using your own vehicle, all medically related transportation will be reimbursed by our contract agency, Medical Answering Services (MAS). In order to be reimbursed for this cost, the following procedure must be followed:
1. As the transporting foster parent, you must call MAS at 1-855-360-3543.
2. Have the child's Medicaid CIN number (the CIN number appears on both the child's Medicaid Card and the Managed Care insurance card) on hand as they will ask for this along with the child's DOB, address of where you are, address of where you are going and your phone number.
3. You must call 72 hours in advance of the medical appointment. If it is an emergency, you can still be reimbursed but have to call within 72 hours of the appointment.
4. When you call you must identify yourself as a foster parent seeking reimbursement for transporting a foster child to a medical appointment.
5. The call taker will give you an invoice number and will mail you the paperwork that you must complete and send back to MAS in order to receive reimbursement. A check will be sent directly to you from MAS.
To be clear, medically related transportation includes routine and emergent medical, dental, vision and mental health services. Specific questions regarding transportation needs can be answered by MAS at the above number. This is for medically related transportation only.
Secondly, with regard to your child's health insurance coverage, it is imperative that foster parents adhere to the Managed Care policies when utilizing the child's health insurance. Specifically, a child in your care must be brought to the primary care physician identified on the child's health insurance card. All health care for your child must be guided by the designated primary care physician. Please understand that the Agency has incurred extraordinary expenses related to unauthorized doctors, specialists and medical procedures.
As always, we thank you for all you do for children and families of Orange County. Should you have any questions about this correspondence, please don't hesitate to call us. Contact your child's Caseworker or Case Supervisor, or Kelly LaVelle @ 845-291-2911 or Melanie Hess @ 845-291-2970.
Very Truly Yours,
Beth Van Pelt
Case Supervisor
Homefinding Unit
845-291-2813
To view a copy of this letter, click here.
---
---

Do you know someone who you think would be a great foster parent?
If you refer them and they become a foster parent, you could receive $250!
Have them call the Foster Care Network's Hotline: 1-877-297-3303